Every now and then a TV phenomenon comes along that captures the imagination of viewers worldwide. 'Outlander' is one such phenomenon which quickly established itself as must see TV after only a few episodes and is now into its sixth season with more yet to come. Based on the books by Diana Gabaldon, Outlander is a historical time travel story which starts off in 1940s wartime and 18th century Scotland, but also goes to 18th century America by Season 4.
The story centres around heroine, Claire Randall, who finds herself transported to the Scottish Highlands at a time of turmoil and uprisings where she meets and falls in love with the handsome Jamie Fraser. The books have entranced readers for years, but the recent TV adaptation has allowed the beautiful Scottish scenery and historic buildings to bring the story to life.
Fortunately a lot of the sites used to film the TV series are real places, in Scotland, which are open to the public. This makes a tour of your most favourite parts of the show possible, as long as you know where to go. Here we hope to guide you through many of the locations used in the TV show.
Where is Outlander filmed in Scotland?
Use our handy Map to pinpoint the Outlander Film Locations and our B&Bs that are nearby
Abbey of Ste. Anne de Beaupre - Aberdour Castle, Easter Aberdour, Fife, KY3 0SL
Benedictine Monastary in France where Jamie is taken after his incarceration at Wentworth Prison
Aberdour Castle (5 miles east of the Forth Bridges) is a fine example of the evolution of castles through the years. Originally a 13th century fortified castle, it was extended and improved by subsequent generations until it became a delightful private residence with a walled garden and terraces with a beehive-shaped doocot. Some parts of this castle can be traced back to the 1200s which makes it one of the oldest castles in Scotland .... possibly THE oldest. Owned by Historic Scotland and Open to the Public.
B&Bs near Aberdour Castle - Bayview Bed and Breakfast, Upper Largo, Craighall Steading in Ceres
Bonnie Prince Charlie's Palace - Palace of Holyroodhouse, Edinburgh, EH8 8DX
This is where Jamie and Claire beg Bonnie Prince Charlie to abandon his cause
The Palace of Holyroodhouse in Edinburgh, or Holyrood Palace, is the official residence of Her Majesty Queen Elizabeth II, when she is in Scotland on state business. As well as the fabulous state apartments, which have unique art and furniture, you can also see the apartments occupied by the ill fated Mary Queen of Scots. These have been filled with many of her personal belongings and ooze history. As if this was not enough, there is also the ruined Abbey and gardens to see. Definitely worth a day out and an extra treat if there is something 'official' going on.
B&Bs near The Palace of Holyroodhouse - Arden Country House, Linlithgow
Castle Leoch - Doune Castle, Doune, near Stirling FK16 6EA
Doune Castle is the site of the fictional Castle Leoch which is the home of Jamie's uncle Colum MacKenzie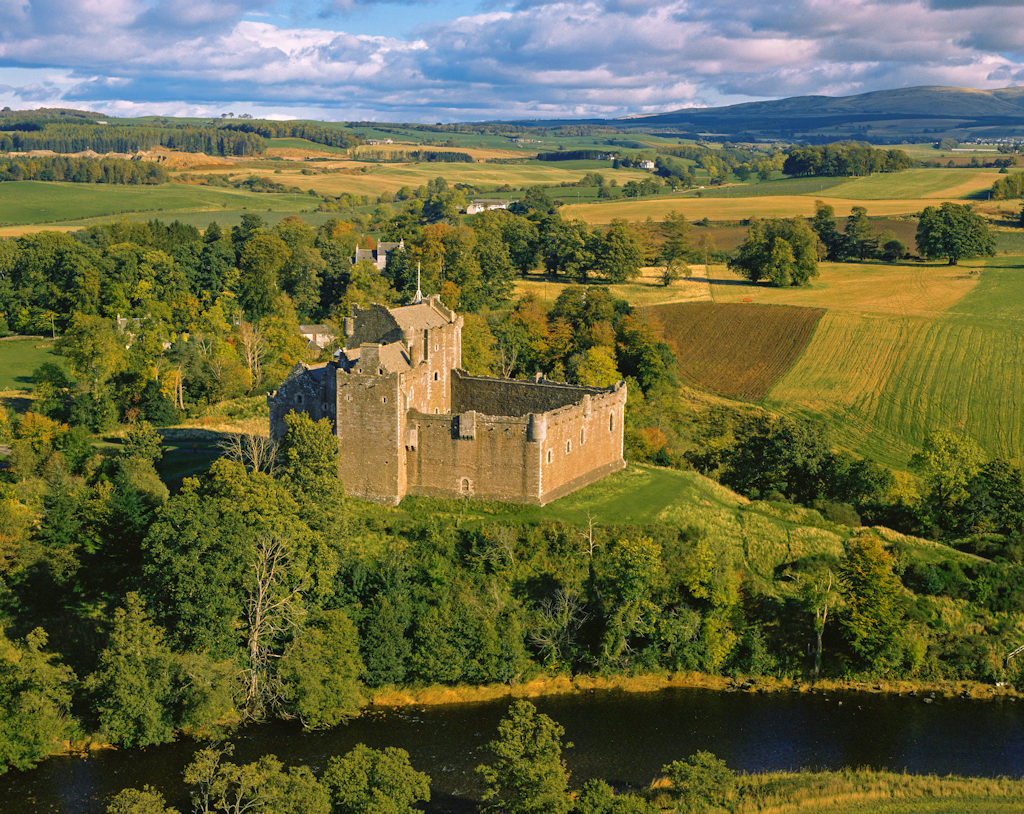 Photo copyright VisitScotland / Paul Tomkins
There are lots of memorable castles in Scotland, but not many can boast the celebrity status of Doune Castle near Stirling. Built in the late 14th century, Doune has achieved pilgrimage status in recent years having been used as the location for the popular Monty Python film, 'The Holy Grail', and more recently featured in the TV series 'Game of Thrones' and 'Outlander'. Even without its impressive acting credits, the castle is a stunning example of its type and well worth a visit. Owned by Historic Scotland and Open to the public all year.
B&Bs near Doune Castle - Garvally House, Alloa,
Craigh na Dun - near Kinloch Rannoch, PH16 5QF
The stunning mountain scenery of Dunalastair Estate near Loch Rannoch is part of one of the most pivotal scenes in Outlander. There are no standing stones here in reality (only ones installed during filming) but the moor makes up the backdrop scenery around the stone circle, which through the magic of TV appear in the series. Rannoch Moor is an area covering 50 square miles of true wilderness. The peaty, boggy landscape has ensured that this area has remained fairly untouched by human habitation as it is so difficult to build here .... even putting a road across was a challenge. The moor sits between Glencoe and Loch Lomond.
The stones were probably inspired by Clava Cairns near Culloden Battlefield just outside Inverness, or possibly the Callanish stones on the Isle of Lewis in the Hebrides.
B&Bs near Kinloch Rannoch - Bridge of Gaur Guesthouse, Loch Rannoch, Northlands Bed and Breakfast, Pitlochry, Brae House, Aberfeldy
Cranesmuir - Culross, KY12 8JH
This wonderfully preserved village makes the perfect setting for the village of Cranesmuir. This is the home of Claire's friend Gellis Duncan and features in many scenes in Series 1 and also Series 2. The Palace Gardens were used as the location for Claire's Herb Garden at Castle Leoch.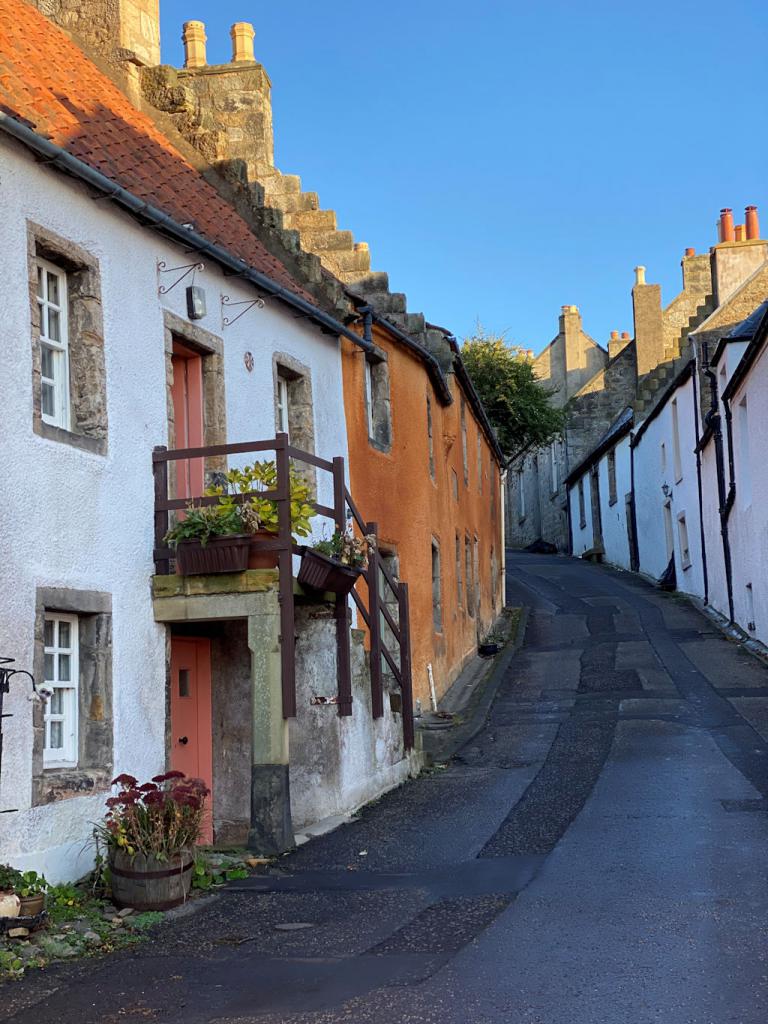 The Royal Burgh of Culross is an incredible town which has managed to survive almost completely as it would have looked in the 17th and 18th century. Many original buildings can be found from the splendid Culross Palace built in 1597, to the Town House and Culross Abbey, as well as beautiful streets with great names like 'Stinking Wynd', The National Trust have been working in the village since the 1930s painstakingly preserving the buildings and it is now a perfect window into a part of Scottish history that could have been lost forever. Managed by The National Trust of Scotland and Open to the Public
B&Bs near Culross - Garvally House, Alloa, Arden Country House, Linlithgow,
Culloden - Culloden, Near Inverness, IV2 5EU
A major thread of the series is the Battle of Culloden which is a real thing that did happen. The scenes of Claire saying goodbye to Jamie before he joins the Jacobites were filmed at the real battlefield.
The Battle of Culloden was the last pitched battle to take place on Scottish soil and was the scene of the Jacobite rising of 1745. An extensive visitor centre is located on the edge of the famous battlefield just outside the Highland capital, Inverness. Nearby are the Clava Cairns, thought to be the inspiration for the fictional standing stones of Craigh na Dun.
B&B near Culloden - Ardmeanach House in Inverness and Inverness House in Inverness
Fort William - Blackness Castle, Firth of Forth, Nr Queensferry EH49 7NH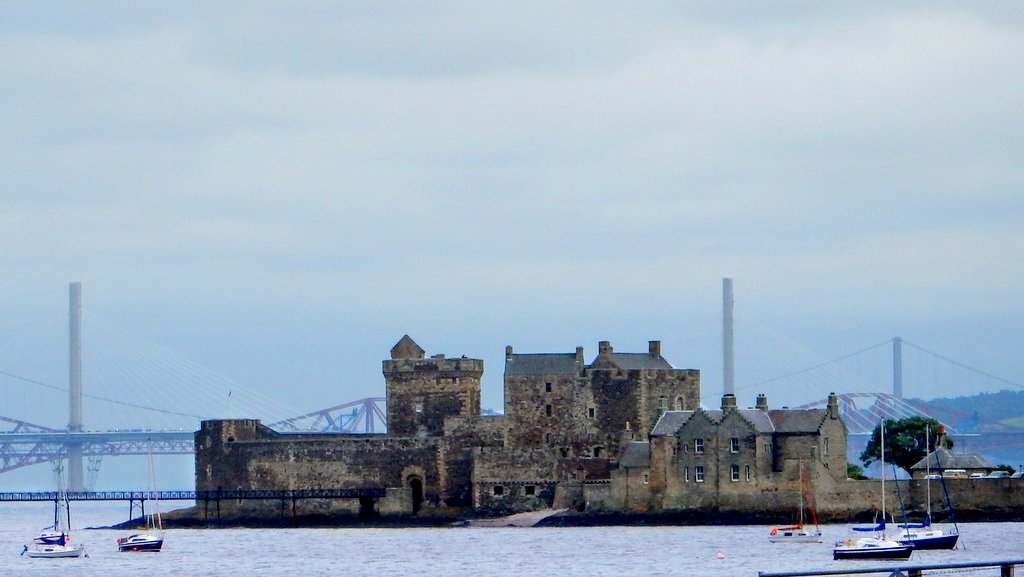 Blackness Castle doubles as the Fort William headquarters of Black Jack Randall and is where Jamie was held captive.
This imposing castle, with its huge curtain walls, stands on the banks of the Firth of Forth, just up from Queensferry and Linlithgow. The site was originally a seaport but its strategic position made it an ideal place for a defensive castle. Blackness was unbreached for over 200 years until the times of Oliver Cromwell. Subsequent to that it served as both garrison and a prison. Owned by Historic Scotland and Open to the Public. Visiting Blackness Castle also gives you a chance to appreciate the engineering of the 3 bridges crossing the Forth
B&Bs near Blackness Castle - Arden Country House, Linlithgow
French Port (Series 2) - Dysart Harbour, Kirkaldy, KY1 2TQ
This historic small harbour, is used in series 2 for the port at which Jamie lands when he escapes to France.
Dating back to the 1450s, the harbour, which is at the eastern end of Kirkcaldy, was used for exporting Salt, Coal and later Wines and Spirits to the Low Countries and Baltic Countries. Now part of a conservation area retaining many original buildings.
B&Bs near Dysart Harbour - Bayview Bed and Breakfast, Upper Largo, Craighall Steading in Ceres, Tarskavaig Bed and Breakfast near St Andrews, Garvally House, Alloa
Inverness - Falkland, KY15 7DA
The 1940s scenes of Inverness in the opening series were filmed further south in Falkland. Campbells Coffee House is now a real coffee shop that has retained the appearance used for the filming.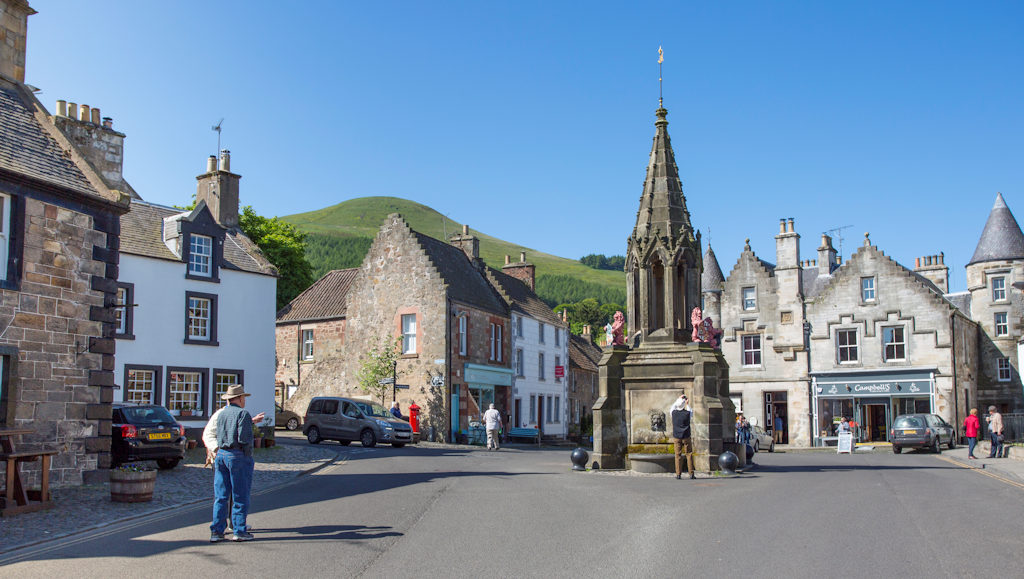 Photo copyright VisitScotland / Kenny Lam
Falkland with its authentic buildings and streets makes a great replacement for the real Inverness. The town is built around Falkland Palace - Falkland Palace has been the palace of Kings for generations, some willingly in the case of James IV and V and some not so willingly as with the imprisoned King Robert III. King Robert was held captive at Falkland long before it became the Renaissance building you see today. Now managed by the National Trust for Scotland, Falkland Palace is open all year but you should check opening times as these differ throughout the year.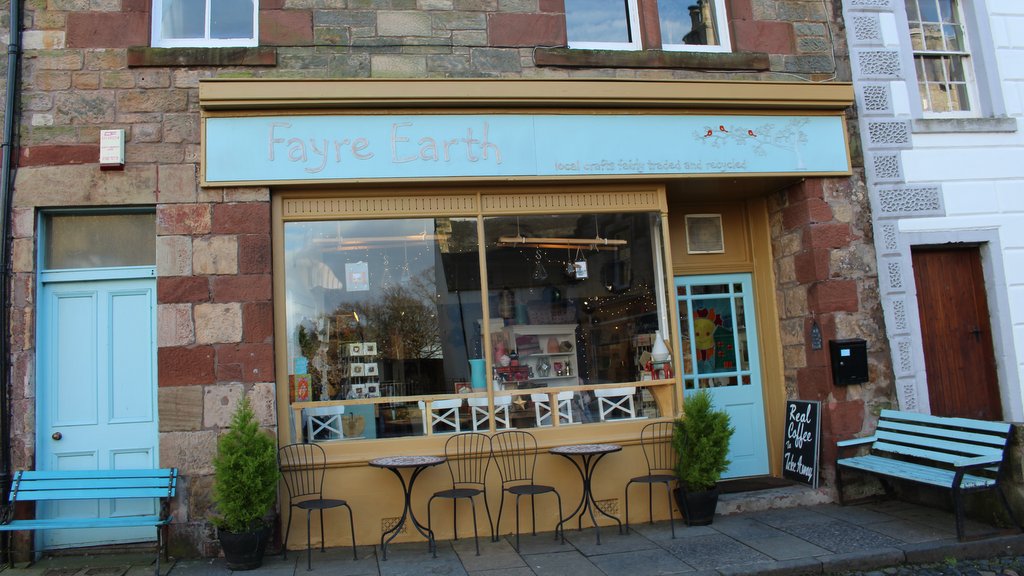 B&Bs near Falkland - Craighall Steading in Ceres, Bayview Bed and Breakfast, Upper Largo, Tarskavaig Bed and Breakfast near St Andrews, Garvally House, Alloa
Lallybroch - Midhope Castle, Linlithgow, EH49 7NB
Otherwise known as Broch Tuarach, the house is used as Jamie's home.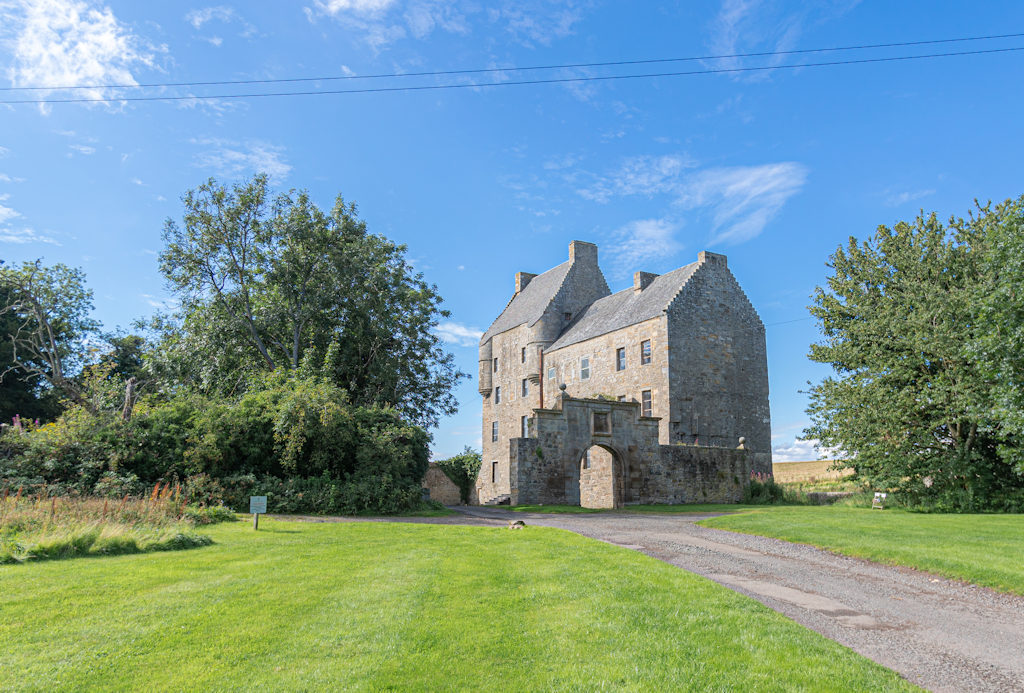 Photo copyright Visit West Lothian / Vass Media
Originally built in 16th century and modified a number of times, the building is now derelict so you have to be very careful when you visit. The castle is only occasionally open to the public. Check at Hopetoun House Farm Shop.
B&Bs near Linlithgow - Arden Country House, Linlithgow
MacKenzie Village - Highland Folk Museum, Newtonmore, PH20 1AY
The village appears in the first episode and is where Claire, Jamie and his clansmen seek shelter.
The Highland Folk museum is a unique open air, interactive museum that seeks to show how Highland people lived from 1700 onwards. Authentic traditional homes and buildings have been constructed to give a real glimpse into the past .... even the furniture is correct in every detail. The most fascinating buildings are the turf roofed crofts, but you can also see more recent history with Highland homes from the 1960s. Open to the public from March to October
B&Bs near Highland Folk Museum - Coig na Shee, Newtonmore and The Viewmount, Kingussie
Palace of Versailles Gardens (series 2) - Drummond Castle Gardens, near Crieff, Perthshire, PH74HZ
Formal Gardens used to represent the ornate gardens of the Palace of Versailles in series 2.
Situated at Muthill near Crieff. Drummond Castle has one of the finest formal gardens in Europe. The gardens were first constructed in 1630 and have had various updates and renovations over the hundreds of years they have been tended. Particularly popular is the Italian Terrace, the ancient Yew hedges and the hundreds of Copper Beech trees. Gardens open at Easter, then from May to October 1pm - 6pm. Note: the castle itself is not open to the public.
B&Bs near Drummond Castle Gardens - Garvally House, Alloa, Northlands Bed and Breakfast, Pitlochry, Brae House, Aberfeldy, Craigellie House, near Blairgowrie
Wedding Venue - Glencorse Old Kirk, Penicuick, Midlothian, EH26 0NZ
The kirk is the site of one of the romantic scenes of the series….the wedding of Jamie and Claire.
17th century former Church in the grounds of Glencorse House, now used exclusively as a private wedding venue. Not generally open to the public...unless you decide to get married there, but private tours can be arranged in advance.
B&Bs near Glencorse Old Kirk - Arden Country House, Linlithgow
Wentworth Prison - Linlithgow Palace, Linlithgow, EH49 7AL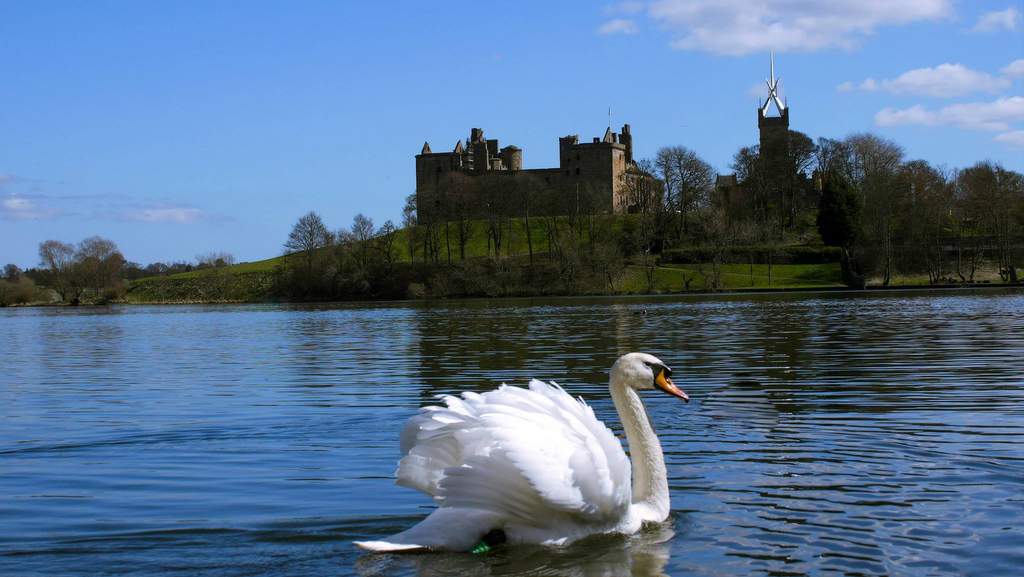 The entrance and corridors of this ruined palace are used as Wentworth Prison. Photo taken by Arden Country House.
Linlithgow Palace has played an important role in Scottish history being the birthplace and primary residence of the Stewart Kings. Enjoyed as a pleasure palace by Royals for years, it was also the birthplace of the ill fated Mary Queen of Scots. Following the unification of the crowns and James VI relocation to London, the palace fell into disrepair. Owned by Historic Scotland.
B&Bs near Linlithgow Palace - Arden Country House, Linlithgow
Witch Trials - Tibbermore Church, PH1 1QJ
The church provides the backdrop for the witch trial of Claire and Geillis Duncan and is used again in series 2.
Built in 1632 the building is no longer an active church and is in need of repair. Access inside can be arranged with the local keyholder by contacting the Scottish Redundant Chuches Trust.
1940s Railway Station in London - Bo'Ness and Kinneil Railway, Near Edinburgh, EH51 9AQ
This museum was transformed into the Railway Station that was used in the London 1940s scenes.
This fascinating museum combines 5 miles of track, an authentic railway station and a huge range of restored engines. It really is a super day out and especially so if you plan your visit so you can enjoy one of the train journeys. Check Opening times.
B&Bs near B'Ness and Kinneil Railway - Arden Country House, Linlithgow, Garvally House, Alloa
Other sites of note:
Duke of Sandringham's Stately Home - Hopetoun House, just outside Edinburgh.
1940s scenes - Preston Mill, EH40 3DS - Preston Mill is used in the scenes where the redcoats are searching for Jamie.
1940s London - George Square, Glasgow, G2 1DU - The square is used in several 1940s scenes, but most notably where Frank proposes.
Coastal Port - Troon, Ayrshire, KA10 6EH - This seaside town is used when Jamie boards a ship to take him to France.
Highland Field - Pollock Country Park, Glasgow, G43 1AT - The park is used as a location for where Claire gathers wild herbs for her medicines when she goes back to the 1700s and is also used as the grounds for Castle Leoch.
Opening Credits - Tulloch Ghru - This area of the Cairngorms and Aviemore was used in the opening credits and the first episode where Claire rides to Craigh na Dun with Jamie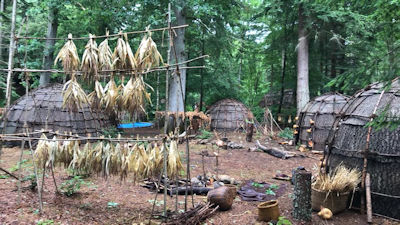 Loch Faskally - America - This photo was taken in July 2018 during filming of Season 4 at Loch Faskally (Perthshire) when the crew built a Cherokee village and a Mohawk settlement in the forest to depict 1770s America.
Use our easy 'Outlander Film Location Map' which shows both locations and B&Bs